Efficiency Helps CFOs Stay Ahead of the Pack
Finance teams today are working harder than ever before. The demands of the global and digital economy have multiplied the finance function's core responsibilities. At the same time, CFOs are expected to partner with their C-suite colleagues to shape long-term business strategy. When finance chiefs do their jobs well, they make a powerful impact.
But surprisingly few CFOs give themselves high marks for effectiveness. Most see room for improvement in working capital optimization, performance management, and cost control. What do the high-performing minority—the Finance Leaders—do differently from the rest of the pack?
To answer that question, Oxford Economics and SAP surveyed 1,500 CFOs and other senior executives around the world about their goals and challenges. We identifed six traits that make a Finance Leader, including excellence in core finance activities and a high level of efficiency enhanced by automation (Fig. 1). Only a select 11.5% of our survey respondents qualified as Leaders. Yet our survey results show these six practices boost business performance; efficiency; and governance, risk, and compliance (GRC) across the organization.
Finance Leaders:
Have strong influence beyond the finance function

Drive strategic growth initiatives

Improve efficiency with automation

Are very effective at core finance processes

Collaborate regularly with business units across the entire company

Work closely with GRC and are well equipped to handle regulatory change
When the finance function is proactive in these six areas, it pays off. Finance Leaders are almost twice as likely as non-Leaders to report market share growth over the past year. They have a significantly tighter grip on costs. And they make the most of technology innovations.
Companies with more than 5% revenue growth are almost twice as likely as slower-growing companies to strongly agree that automation improves finance function efficiency.
From Automation to Performance
We made automation-enabled efficiency a criterion of Finance Leadership because, as all CFOs understand, an inefficient business is like a bucket with a hole at the bottom, leaking productivity and profits. As for respondents overall, 73% agree that automation is improving the finance function's efficiency at their company, giving its executives more time for value-added tasks. Our results suggest the rest are sacrificing growth. Among respondents whose revenues grew more than 5% over the past year, nearly a third strongly agree that automation is improving their finance function's efficiency—almost twice as many as those with slower revenue growth. The responses of these fast-growing firms highlight the importance of automation in a strategically focused, value-driven finance function.
Leading companies draw a straight line from efficiency to performance. David Craig, CFO of Commonwealth Bank of Australia, points out that repetitive data input by human beings heightens the risk of errors, which infuriate account holders and require costly, time-consuming correction. "Automation delivers better service to the customer," he says. "It takes dreary, repetitive work away from staff. And the shareholder benefits because the organization is more efficient."
The finance function itself is a prime candidate for streamlining and automating, as many of its core, transaction-focused tasks must be repeated period after period. Tony Klimas, global finance practice leader at EY, says there's a huge upside to doing so. "People can get their back office running more smoothly than ever, which allows them to turn their attention to more interesting topics, like 'How do we have better insights? How do we help solve business problems?' and other strategic issues." He adds that his firm is experimenting with pilot programs in automation that could
boost productivity in back-office, transactional operations by 30%–40% over the next two years.
The Right Tools for the Job
There's more to efficiency than automation, of course. Finance Leaders see the finance function as an internal service within their organization, and they look for digital tools and innovative technology to help them serve all its different parts. For example, 95% of Leaders consider cloud-based applications critically or very important to the finance function's successful performance today, compared with 70% of non-Leaders. They are also much more likely than non-Leaders to say the same of Big Data, mobile technology, and real-time and predictive analytics.
According to our research, such tools not only improve efficiency across the organization but also help optimize working capital. For example, among respondents who rate these technologies
as very or critically important to their finance function, nearly all say cloud-based applications and Big Data are useful or highly useful for optimizing working capital. And 100% of respondents who consider predictive analytics important say they enhance efficiency across the organization.

Finance Leaders are tech pioneers, recognizing that today's emerging technologies will be tomorrow's core tools. Leaders are dramatically more likely than non-Leaders to be using shared services platforms, the Internet of Things, blockchain, and artificial intelligence (Fig. 2). Experts predicts that in the long term, these emerging technologies will not only allow the finance function to do more with less but also make finance more powerful.
"CFOs are in an interesting position," says Mr. Klimas of EY. "There are a whole host of technologies out there that they know about—things like robotics, machine learning, the cloud, software as a service, and blockchain. CFOs are not only being asked to figure out 'How do I apply these things to my finance function to optimize performance?' They're also being asked, in their more strategic role and with their fiduciary responsibility, to help the business understand how these technologies can be leveraged, and what is the business case for making investments."
What keeps finance executives from enhancing their function's efficiency? According to survey respondents, the biggest obstacle is the difficulty of updating technology without disrupting daily operations. Insufficient workforce skills, lack of budget, and incompatible systems are all closely tied for second place. Yet despite these roadblocks, 91% of our survey respondents say technology will be important to streamlining the finance function over the next three years. Among Finance Leaders, it is nearly unanimous: 98% agree. Clearly, for these high performers, the benefits of state-of-the-art technology greatly outweigh the risks.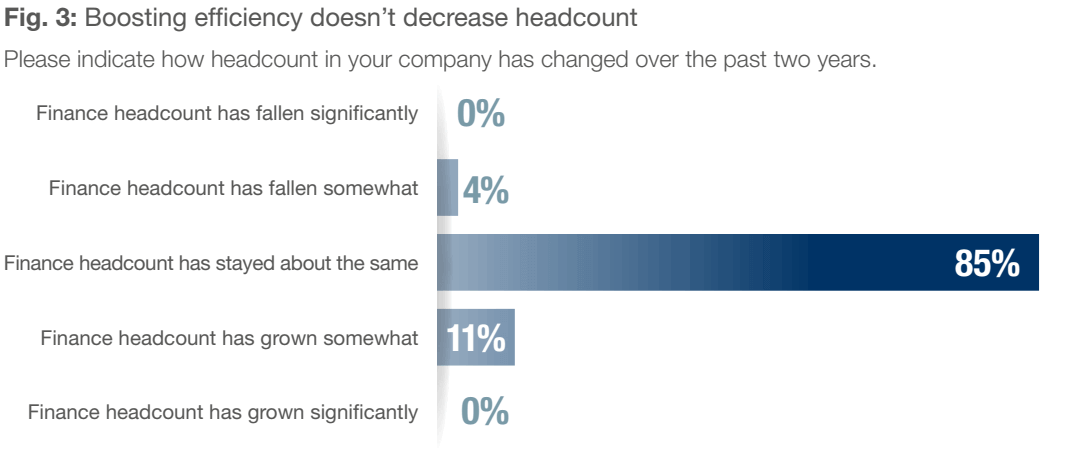 Interestingly, while leading CFOs are committed to boosting finance efficiency, they don't seem to be reducing staff. Finance headcount has remained steady over the past two years at 85% of
respondent companies in our survey and fallen at only 3% (Fig. 3). In a separate survey question, only 4% of respondents say automation is causing finance jobs to disappear at their organization.
In fact, the fastest-growing and most profitable companies are likeliest to report higher finance headcount (Fig. 4). More than twice as many companies with revenue growth above 5% as those
with less than 5% growth say staffing in the finance function increased in the past two years. Similarly, almost twice as many respondents whose profit margin grew by more than 5% over the past year say finance has been hiring, vs. those with profit growth below 5%.
One explanation, says Mr. Klimas of EY, is that finance chiefs who lead an efficient function are redeploying their people in productive ways. "In the middle of an expanded, more complex role, and with all this technology coming at them, CFOs are also very concerned how to manage people, how to lead people, how to develop people," he says.
Effective Cost Control: "You can't manage what you don't measure"
It can be difficult to prove where technology delivers the most bang for the buck. But while correlation does not necessarily prove causation, our survey results suggest that strong profitability is tied to effective cost control—a cornerstone of organizational efficiency. For example, companies with profit margin growth of 5.1%–10% over the past year are more than twice as likely as less profitable companies to rate themselves "very effective" at travel and entertainment (T&E) expense management. Furthermore, these highly profitable companies are far more likely to say they find T&E spending analytics and supply chain analytics extremely or very useful.
As the late business consultant and thought leader Peter Drucker famously said, "You can't manage what you don't measure." Finance Leaders understand the link between superior fnancial performance and cost control. They are significantly more likely than non-Leaders to use analytics to understand their organization's spending trends in T&E, procurement, and supply chain. Perhaps as a direct result, our survey found that fewer than half (42%) of Finance Leaders name rising costs and wages as a top-three business risk facing their organization in the next two years, compared with 60% of non-Leaders.
Efficiency is about more than cutting costs. It's about freeing resources—whether personnel or cash—and investing them for long-term growth. When companies find the best tools to enhance efficiency within and outside the finance function, the whole organization benefits.
Calls to Action:
Work with IT to build a business plan for innovating the finance function without disrupting daily activities. A flexible approach can minimize business interruptions while improving efficiency.
Consider where automation and emerging technologies can enhance efficiency in core transactional activities by relieving staff of manual, repetitive tasks.
Leverage Big Data analytics to convert the massive volumes of expense information the finance function receives into actionable insights.