The times we live in are exciting and new, but also dangerous for those that are not ready to adopt new technologies. Those that have proved ready, are benefiting greatly from the embrace of technology, and significantly within supply chain. There is a standard definition of automation in the supply chain: anything that can be handled via today's computer systems can be automated. This includes and is not limited to billing, generation of bills of lading, compliance reports and even movements throughout a factory or warehouse floor.
Automation has allowed supply chain operations within companies to perform tasks with minimal human intervention or interaction. Automation methods vary significantly in size, functionality, dexterity, intelligence and cost, from robotic process automation to flying vehicles with artificial intelligence.
Traditionally, automation and robots have been deployed for executing routine and repetitive tasks, requiring complex programming for implementation, while lacking the agility to easily adjust operations. As the automation technologies have become more sophisticated, set up times are decreasing, requiring less supervision and are allowing for the smooth integration and transformation of legacy supply chain systems.
The phases within traditional supply chain systems all acted as autonomous phases that had minimal visibility into the other segments of the chain, whereas, with automation, the supply chain is streamlined from end-to-end, enabling all different piece of the chain to be managed in tandem as seen below: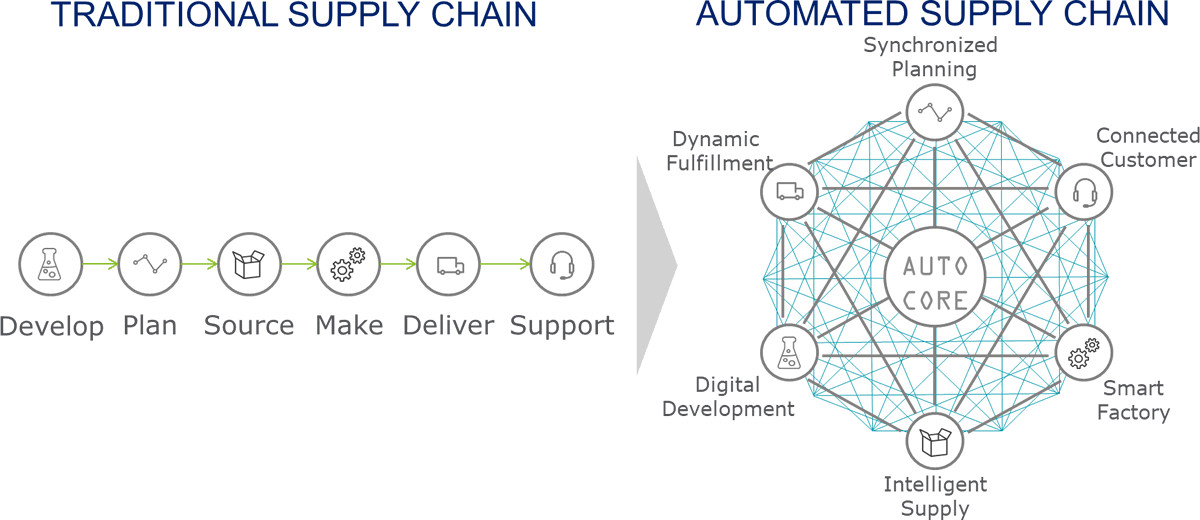 Automating the supply chain process could primarily drive value through indirect and direct operating cost reduction and through increasing revenue potential. In addition, there are major benefits that companies can reap by choosing to automate their supply chain processes such as:
Decreasing operating costs
Supply chain automation helps in the reduction of labor costs, inventory, warehousing, and overhead costs associated with inventory storage, including rent, labor and energy costs.
Increasing productivity
By optimizing current resources, enabling around the clock work, companies can gain up to 20 percent more productivity in areas that have been automated.
Increasing Volume
For manufacturers, automation allows for the increase of the volume of products that can be produced. The technology will allow for the incorporation of the skills of trained workers with the accuracy of automated equipment, hence, increasing productivity.
Improving accuracy
Automation can reduce errors associated with manual processes, which in turn, helps plan cost control through providing accurate, real-time information on inventory levels.
Improving time savings
Through streamlining business processes, supply chain automation boosts time savings by reducing the time associated with implementing labor intensive tasks like accounting, saving manufacturers immense amount of time and money.
Integrating with large suppliers
The ability to integrate systems with that of large suppliers is one of the major advantages of automating a supply chain, as it enables a strong foundation of which permits more visibility between partners.
Improving compliance
Automation can assist organizations with complying with industry standards through standardizing pricing, products and vendors.
While automating tasks is a much more convenient and efficient way to manage a supply chain and does provide immense benefits, managers and leaders within an organization may prefer to be able to track specific actions and outputs. For that reason, many automation solutions provide a comprehensive & customizable dashboards that give leaders visibility into all the necessary data and processes, and that is why Enterprise Resource Planning (ERP) is key to an automation project.
ERP software's allow for the automation and integration of core business processes. Some of these processes include scheduling operation, inventory records, customer orders and financial data. That said, ERP software's can drive huge improvements in terms of the efficiency and productivity of any organization, which includes distribution, manufacturing, finance, reporting and analysis. Automation was a luxury, but now it is a necessity for companies to survive in this competitive environments.